Cut Resistant Level 5 HPPE Liner Blue Nitrile Full Coated Sandy Palm Coated Work Gloves
Product Description

Anti Cut Level 5 HPPE Liner Nitrile Full Coated + Sandy Palm Coated Cut Resistant Gloves
We have been specializing in manufacture and export of work Gloves for 8 years.
We currently have 4 production lines with more than 60 professional workers.
Our advantages: 
1. factory direct, no middleman
2. high quality gloves with reasonable price 
3. professional service 
...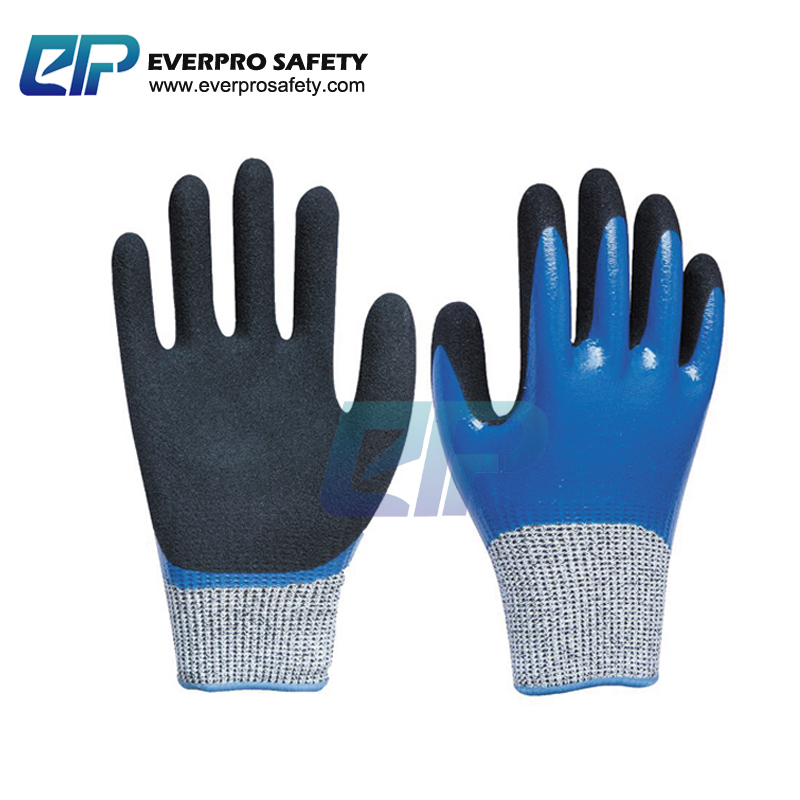 Cut-resistant gloves are those designed to protect the wearer's hands from cuts while working with sharp tools. They can be divided into metal mesh gloves, cut-and-sewn, and seamless knitted gloves.
The cut protection is provided by high performance materials such as Para aramid (Twaron, Kelvar), HPPE, or steel fibre and fibreglass yarns. The gloves are usually coated with solid or foamed Latex, Nitrile or Polyurethane.
Made of Premium Quality Material resistant to cut. Heather Grey HPPE Environmentally-Friendly Polyurethane Material, High polyethylene performance-makes it breathable, highly elastic, lightweight and comfortable.
Everpro gloves are Safe and Reliable, which meets the standard EN388, a regulation for cut resistant gloves, level 5 cut resistance standard, protecting your hands from scrapes and cuts.
Perfect for slicing, oyster shucking and cutting for kitchen users, pumpkin, wood carving, carpentry and more. our gloves can also be used when changing the blades for your lawn mower, unpacking razor boxes that were tapped and many more uses. 
Characteristics:
13 Gauge seamless knitted with cut fiber HHPE

Cut resistance, abrasion resistance, tear resistance, puncture resistance

Seamless liner provides superior dexterity

Washable and can be reused without any loss in protection

Protect your hands from the harm of cuts, scratches, sharp and broken objects.

Durable HPPE yarn for strength and comfortable fit, cut resistant 

Reversible for right or left hand use 

Provides excellent grip in wet or dry conditions 

UV protected, Machine washable

Glove Coating Above
nitrile full coated+ Sandy Palm Coated

A high level coating nitrile material.

Good grip and superior dexterity.

Capable of standing wear.

Coating nitrile colors optional

Glove Liners Above
13 gauge knitted+HPPE+Cut Fiberglass liner

.

A high level knitted craft,high level of cut resistant.

Breathable on gloves back.

Capable of standing wear and super soft.

Gloves liner colors optional.
Glove Size:
Width Measurement: Wrap a tailors measuring tape around your dominant hand just below knuckles, excluding your thumb, and make a fist. This measurement is your "hand width" glove size.
US Sizes

6-7 inches

XS

7-8 inches

S

8-9 inches

M

9-10 inches

L

10-11 inches

XL

11 plus inches

XXL

EU Sizes

152 - 178 millimeters

EU - 6

178 - 203 millimeters

EU - 7

203 - 229 millimeters

EU - 8

229 - 254 millimeters

EU - 9

254 - 279 millimeters

EU - 10

279 plus millimeters

EU - 11
Length Measurement: Measure from the bottom edge of your palm to the tip of your middle finger to determine your "finger length" size.
| | |
| --- | --- |
| US Sizes |   |
| 6  5/16 inches | XS |
| 6  3/4  inches | S |
| 7  3/16 inches | M |
| 7  9/16 inches | L |
| 8  1/16 inches | XL |
| 8  7/16 plus inches | XXL |

| | |
| --- | --- |
| EU Sizes |   |
| 160 millimeters | EU - 6 |
| 171 millimeters | EU - 7 |
| 182 millimeters | EU - 8 |
| 192 millimeters | EU - 9 |
| 204 millimeters | EU -10 |
| 215 plus millimeters | EU - 11 |
Application
Assembly and mounting for mechanical subcontracting (automotive industry)

Treatment of paper and cardboard (use of cutters)

Flashing operations in plastic industry

Canning plant, glass, metallurgy and sheet metal work

Handling sharp objects such as glass, metal, ceramics and plastics, automotive assembly, wiring, HVAC installation,paper and pulp industry, textile industry and other applications requiring ultimate  cut protection.

Protect yourself in the kitchen or outdoors 

Best for butchering game, livestock, or filleting fish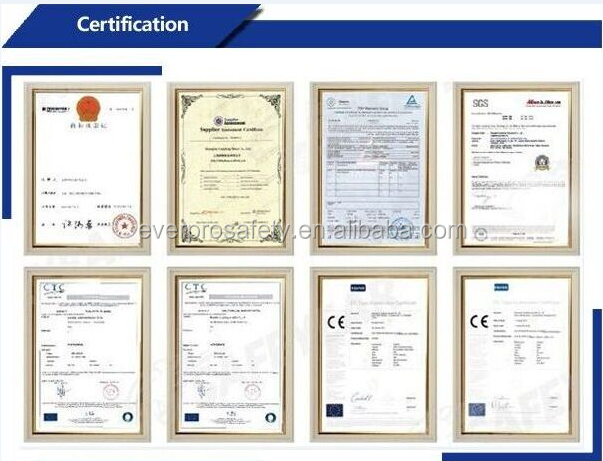 Cut Resistant Gloves Materials Details
HPPE– HPPE was developed by DSM as a multipurpose high performance polyethylene fiber. It has excellent abrasion and cut resistance, being up to 15 times stronger than steel (weight for weight). It is cool to the touch and comfortableto wear and also launders well.
Nitrile – Nitrile can be applied to knit and cut-and-sewn gloves using several methods, including screen printing, foam coating and dipping.It offers good mechanical properties (resistance to abrasion, cuts, tears and punctures) and yet is soft and flexible so that gloves do not feel stiff. Grip is also good and can be enhanced further by air-infusing (foaming) the nitrile during dipping.This creates an open surface texture and greater surface area which improves grip on wet or oily objects. Nitrile is also a good choice in high heat applications because it does not melt at high temperatures,which could create product contamination issues (for example, in an application such as auto-glass manufacture).
Polyurethane (PU) – Polyurethane is the toughest of the popular coating polymers, with the best resistance to abrasion, cuts,tears and punctures. This makes it highly suitable for cut resistant gloves, where its mechanical properties compliment those of the high performance fibers used in those kinds of gloves. Also, because it's tough, coatings can be made thinner than withother polymers, yet still provide comparable levels of protection. This makes it a good choice for applications such as fine assembly work where a high level of tactility (feel) is important.  
Poly Vinyl Chloride (PVC) – PVC has been a popular choice for inexpensive dipped supported gloves for decades. In more recent years it has emerged as an attractive option for palm coated dipped gloves. Applied as an air infused (foamed) coating,it offers exceptional wet and dry grip as well as mechanical properties that rival nitrile and polyurethane.
MicroFinish Nitrile – MicroFinish is a revolutionary, high grip glove finish. It is a two stage process that coats the glove in a liquid-proof nitrile layer, followed by a second nitrile layer that is textured with thousands of microscopic pockets that clear oil and other liquids from a surface and enable a sure and confident grip. MicroFinish outperforms foamed finishes in terms of grip, and being a nitrile, it also provides good resistance to abrasion,cuts, tears and punctures.
Natural Rubber (Latex) – Natural rubber has been a popular glove coating material for many years. Normally supplied with a "crinkle" finish, it provides a thicker than average coating that offers good grip and mechanical protection. Natural rubber latex can cause allergic reactions in some individuals.
Dipped Gloves are made by dipping a hand shaped form (with or without a liner) into a tank, or successive tanks of polymer in Liquid form.
Gloves Coating Materials
Coating materials include natural rubber or latex, synthetic rubber, and plastics.
1. Natural Rubber
2. Synthetic Rubber
Chloroprene (Neoprene)   /   Nitrile rubber   /   Butyl and Viton®-butyl
3. Plastics
 Polyurethane / Polyvinyl chloride
Natural  Rubber also known as Latex is found in nature in over 200 plants, but its most common source is the Hevea Brasiliensis tree. Natural rubber dispersed in water is known as latex. Natural rubber has a very high elasticity compared to other glove materials, excellent cut and tear resistance, and outstanding grip and temperature resistance. While it is flexible and durable over a wide range of temperature, -18 to 149°C (0 to 300°F), it has poor flame resistance. In general, natural rubber withstands water, alcohols, and some ketones, but has poor chemical resistance against most hydrocarbon and organic solvents. Natural rubber can cause an allergic reaction in some people.
Nitrile Rubber  is a co-polymer of acrylonitrile and butadiene. Nitrile rubber offers excellent physical hazards resistance to punctures, cuts, snags, and abrasion. While it is not flame-resistant, it demonstrates functional performance in temperatures ranging from -4 to 149°C (25 to 300°F). Nitrile rubber has considerable resistance to oils, fuels, and certain organic solvents. It is commonly used as a coating for dipped gloves and also in the construction of laminated and impregnated, cut and sewn gloves.
Polyurethane (PU)  is a thermoplastic polymer of urethane. Polyurethane provides good abrasion resistance and tensile strength. Polyurethane offers good resistance to oils, some organic solvents, oxidation and ozone. It has poor resistance to hot water and is not recommended for use above 79°C (175°F). Polyurethane has a very low particulate shed, thus making it a good choice for cleanroom gloves. Polyurethane is also used in some specialty application styles and as a waterproof liner for gloves.
Polyvinyl Chloride (PVC) is a synthetic thermoplastic polymer of vinyl chloride. PVC offers good abrasion resistance but may be susceptible to punctures, cuts, and snags. While it is flexible, it does not provide the tactile sensitivity associated with most rubber products. PVC starts to soften at approximately 82°C (180°F). PVC is effective against water and most aqueous solutions, detergents, and diluted bases and acids. It only has limited chemical resistance to organic solvents. PVC is one of the more common coatings for coated Work Gloves.
Qingdao Everpro Safety Product Co., Ltd
Mobile/WhatsApp: +86 151 6524 0863
Contact us if you need more details on Nitrile Coated Cut Resistance Gloves. We are ready to answer your questions on packaging, logistics, certification or any other aspects about Level 5 Cut Resistance Gloves、Cut Resistance Gloves. If these products fail to match your need, please contact us and we would like to provide relevant information.
Product Categories : Cut Resistant Gloves > Nitrile Coated Anti-cut